Most common infection, most are transient with few untoward sequelae.
Some are life threatening (e.g., Meningoccus, Diphtheria)
Severe, recurrent, disseminated or persistent lesions occur in Immunocompromised, organ transplant or AIDS.
Bacterial infections are diagnosed on Clinical grounds, supported by smears, culture, testing for immune responses (Serology) & examining for nucleic acids.
Antibacterial drugs can be effective therapy but, resistance can be a problem (e.g.. MRSA)
CLASSIFICATION
A) ORAL, TONSILLAR & PHARYNGEAL INFECTIONS
PULP, PERIAPICAL & PERIODONTAL LESIONS
ORAL SOFT TISSUE LESIONS
B) ORO – FACIAL SKIN LESIONS
C) MISCELLANEOUS BACTERIAL INFECTIONS
A) ORAL , TONSILLAR, PHARYNGEAL LESIONS
i) PULP, PERIAPICAL & PERIODONTAL INFECTIONS
ACUTE & CHRONIC PULPITIS
DENTOALVEOLAR ABSCESS
GINGIVITIS, PERIODONTITIS, PERIODONTAL ABSCESS
PERICORONITIS, PERICORONAL ABSCESS
CELLULITIS, OSTEOMYELITIS
ANUG, ANUP, CANCRUM ORIS
ii) ORAL SOFT TISSUE LESIONS
SCARLET FEVER
DIPTHERIA
GONORRHEA
CHANCROID
SYPHILIS
TUBERCULOSIS
STREPTOCOCCAL PHARYNGITIS & TONSILLITIS
B) ORO – FACIAL SKIN INFECTIONS
IMPETIGO
FURUNCLE & CARBUNCLE
ACUTE BACTERIAL CHELITIS
ERYSIPELAS
TUBERCULOSIS (LUPUS VULGARIS)
LEPROSY
NOMA
ACTINOMYCOSIS
CAT- SCRATCH DISEASE
C) MISCELLANEOUS BACTERIAL INFECTIONS
ANTHRAX
BRUCELLOSIS
LISTERIOSIS
GLANDERS
MENINGOCOCCEMIA
GRANULOMA INGUANALE
PERTUSIS
TULAREMIA
ACUTE NECROTISING ULCERATIVE GINGIVITIS
Acute necrotizing ulcerative gingivitis (ANUG) is an
endogenous oral infection that is characterized by necrosis
of the gingiva.
SYNONYMS:
Trench Mouth
Vincent's Infection
Fuso Spirochetal Gingivitis
Acute Ulcero membranous Gingivitis
ETIOLOGY:
Anaerobic organisms, Treponema species, Selenomonas species, Fusobacterium species, and Bacteroides intermedius.
Tissue destruction is supposed to be caused by the release of endotoxins that act either directly or indirectly on the tissues triggering inflammatory or immunologic reactions.
PREDISPOSING FACTORS
LOCAL FACTORS
Poor oral hygiene with pre existing marginal gingivitis
Faulty dental restorations, Deep periodontal pockets
Smoking
Emotional Stress.
SYSTEMIC FACTORS
Marked Malnutrition
Severe nutritional deficiency
Leukemia's, Aplastic anemia, AIDS,
CLINICAL FEATURES
AGE
Seen most commonly between 16 –30 yrs, can be seen also in low socioeconomic groups.
SYMPTOMS
Onset is sudden with pain, tenderness, profuse salivation and peculiar Metallic taste.
Patients experience a loss of taste sensation, decreased pleasure from smoking, bad breath.
Spontaneous bleeding from gingival tissues.
SIGNS
Teeth seem to be slightly extruded, sensitive to pressure, or to have a "woody sensation", slightly mobile with difficulty in eating.
Gingival bleeding, Regional lymphadenitis.
Typical lesion is, Punched out, necrotic, crater like ulceration seen over the Interdental papillae and the marginal gingiva with pseudo-membrane formation.
Ulceration may develop on the cheeks, lips and the tongue, palate & pharyngeal area.
These may lead to alveolar process with sequestration of teeth and bone.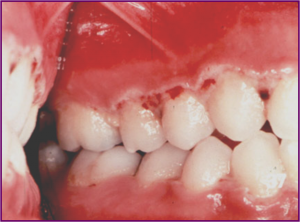 DIFFERENTIAL DIAGNOSIS
Acute Herpetic gingivostomatitis
Pemphigus vulgaris
Immunodeficiency states
Blood dyscrasias
HIV – ANUG
MANAGEMENT
Uncomplicated ANUG – Local debridement
First visit – Gingival irrigation with superficial scaling.
Earlier the removal of local factors, faster is the healing
Mild ANUG – no antibiotics are necessary. Patients are instructed to rinse with Hydrogen Peroxide (1.5 to 2.0 %) or 1.2 % Chlorhexidine mouth wash.
Severe ANUG – Antibiotics are required.
Amoxicillin 250 – 500mg, 6 hourly or Erythromycin 250-500 mg + Metronidazole 400mg 8hourly, for 7 days.
Fluid & electrolyte balance, nutritional supplements, cessation of Smoking.
Second Visit – Evaluate, perform thorough scaling and periodontal curettage.
NOMA
Rare disease of childhood characterized by destructive process of orofacial tissues.
SYNONYMS:
CANCRUM ORIS
GANGRENOUS STOMATITIS
ETIOLOGY:
Necrosis occurs due to infection with Anaerobic bacteria (fusiform bacilli) in a host whose systemic health is severely compromised.
Malnutrition, severe debilitating diseases,PCM states.
CLINICAL FEATURES
Initial lesion is painful ulceration, usually of gingiva or buccal mucosa.
Rapid spread of the ulcer which necrotises
Denudation of involved bone, leading to necrosis & sequestration.
Teeth may exfoliate. Deeper penetration of the infection leads to wide spread involvement.
Before antibiotics these were very fatal.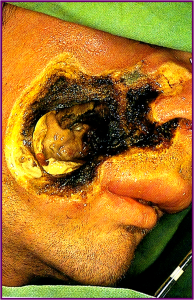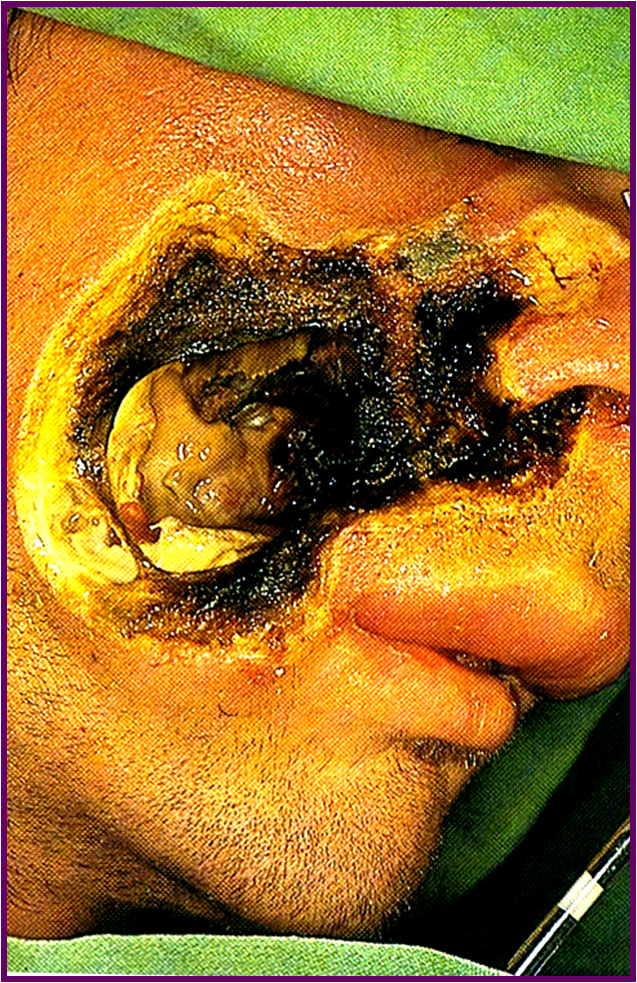 Treatment
Treat the underlying predisposing factor
Restore fluids, electrolytes, general nutrition
Start Antibiotics
Debridement of necrotic tissue with reconstruction.
SCARLET FEVER
Infection with Group – A Streptococci of Beta hemolytic type.
This produces a Erythrogenic toxins.
Predominately, occurs in children, between 2 & 10.
Causative organism usually enters, through the nose or mouth
It is transmitted from person to person by direct contact, that is, by sprays of droplets from the respiratory tract of an infected person.
CLINICAL FEATURES
INCUBATION PERIOD – 3 to 5 days.
SYMPTOMS – Severe Pharyngitis, tonsillitis, chills, fever & vomiting.
SIGNS – seen on the Throat, Skin, Tongue.
Throat
Highly erythematous with exudation.
Enlargement & tenderness of regional lymph nodes.
Skin
Characteristic diffuse, bright Scarlet to dusky red skin rash which appears on the second or third day of the illness.
Rash fades after 3 – 4 days.
Rash is due to toxic injury of vascular endothelium, which produces dilatation of small blood vessels & consequent hyperemia.
Oral Manifestations
Stomatitis Scarlantina is the chief Oral manifestation.
Palate is congested & throat is fiery red.
Strawberry Tongue – White coating with prominent fungiform papillae, which are edematous, hyperemic, projecting above the surface as small red knobs, appearing like a Strawberry.
Raspberry tongue – Coating is soon lost, beginning at the tip & lateral margins.
Tongue becomes deep red, glistening & smooth except for swollen hyperemic papillae.
Teeth – some cases of hypoplasia are reported in permanent teeth, if this occurs at the time of tooth development.
Treatment
Antibiotics –
Penicillin is the drug of choice
Group A streptococci are also sensitive to Erythromycin, Tetracycline & Chloramphenicol.