LEUKO : WHITE PLAKIA : PATCH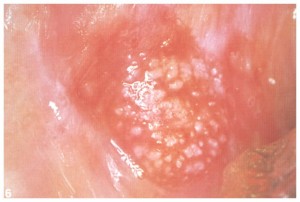 WHO:1967
Defined as a raised patch of the oral mucosa measuring 5 mm or more, which cannot be scraped off and which cannot be attributed to any other diagnosable disease.
(This definition did not carry any histological connotation)
WHO 1978
Def : modified
Leukoplakia was defined as a white patch or plaque that cannot be characterised clinically or Pathologically as any other disease.
(Term is unrelated to absence or presence of dysplasia)
At the international seminar on oral leukoplakia and associated lesions related to tobacco habits at MALMO,SWEDEN in 1983.
" White patch or plaque that cannot be characterised clinically or pathologically as any other disease and which is not associated with an physical or chemical causative agent except the use of tobacco"
UPPSALA ,SWEDEN ,MAY 18 -21,1994 J ORAL PATH MED 1996 suggested that;
Oral leukoplakia is a predominantly white lesion of the oral mucosa that cannot be characterized as any other definable lesions
Provisional diagnosis
Provisional diagnosis of oral leukoplakia is made when a lesion at clinical examination cannot be clearly diagnosed as any other disease of the oral mucosa with a white appearance
Definitive diagnosis
Definitive diagnosis of oral leukoplakia is as a result of the identification and if possible elimination of the suspected etiological factors and in the case of persistent lesions,histopathological examinations.
For definitive diagnosis of leukoplakia biopsy is mandatory
LCP CLASSIFICATION AND STAGING SYSTEM
L represents the size
1 = < 2cm 2 = > 2-4 cm
3 = > 4 cm
x = not specified
C represents the clinical aspect
1 = Homogenous
2 = Non homogenous
X = Not specified
P represents the pathological features
1 = No dysplasia
2 = Mild dysplasia
3 = Moderate dysplasia
4 = Severe dysplasia
X = Not specified
STAGE GROUPING
Stage 1 = any L C1 P1 P2
Stage 2 = any L C2 P1 P2
Stage 3 = any L any C P3 P4
ETIOLOGY
Evil of seven "S" namely
Smoking
Spirits
Spices
Sepsis
Sharp tooth edges
Syphilis
Susceptibility
ETIOLOGICAL FACTORS
Tobacco
Chronic irritation
Alcohol
Dietary components & deficiency states
Tertiary syphilis
Actinic radiations
Viral agents
Candidal infections
Endocrinal disturbances
Idiopathic Leukoplakia
Galvanism
CLINICAL FEATURES
Variation in size,location & clinical appearance
Patches may vary from a non palpable,faintly translucent to thick fissures,papillomatous or indurated
Men > women
Age – 30 years & above
– below 30 years : 5%
Usually asymptomatic
SURFACE
Finely wrinkled or shrivelled in appearance and may feel rough on palpation
COLOR
White grey or yellowish white but with heavy use of tobacco it may assume a brownish yellow color
BORDER
Distinct or indistinct and smoothly contoured or ragged
SITE
Buccal mucosa
Commissure
Alveolar mucosa
Floor of the mouth
Tongue
Lip Vermillion
Hard and soft palate
Gingiva
Lip mucosa
SHARP described three stages
Early lesion – non palpable faintly translucent white discoloration
Later localized or diffuse slightly elevated plaques of irregular outline, they are opaque white and and have fine granular texture
Some times the lesions progresses to thickened, white lesion showing indurations, fissuring and ulcer formation
CLINICAL APPEARANCE
1. Homogenous leukoplakia{56%}
2. Nodular,granular, non homogenous or
Speckled leukoplakia{17%}
3. Verrucous leukoplakia{27%}
4. Proliferative verrucous leukoplakia
Homogenous leukoplakia
Localized or extensive white patch
Surface is corrugated
Like a beach at ebbing tide
Wrinkled pattern{cristae}
Dry, cracked-mud appearance with irregular edges
Predominately white but can be greyish white or yellow
Mostly benign
Speckled leukoplakia
Red and white lesion
Small keratotic nodules scattered over a patch of atrophic or erythematous mucosa
Nodular lesion have slightly raised, rounded, red and or white excrecences
Extreme high rate of malignant transformation
VERRUCOUS LEUKOPLAKIA
Verruciform leukoplakia
Thick white lesions with papillary surfaces in the oral cavity
Heavily keratinised
Common in older adults in the 6th to 8th decade of life
Some may exhibit an exophytic growth pattern
PROLIFERATIVE VERRUCOUS LEUKOPLAKIA (PVL)
Described in 1985
Extensive papillary or verrucoid white plaques that tend to slowly involve multiple mucosal sites in the oral cavity and to inexorably transform into squamous cell carcinoma over a period of many years
High risk of transformation to dysplasia, squamous cell carcinoma or verrucous carcinoma
Preleukoplakia
Describes a diffuse white lesion of the oral mucosa, less dense and less marked than leukoplakia
Precursor of leukoplakia
Strongly associated with tobacco smoking
Characteristic features
– low grade or mild reaction of mucosa
– grayish white or gray lesion
– lobular pattern and distinct borders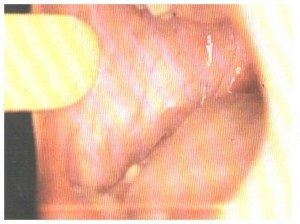 HISTOLOGICAL FEATURES
Lesion represent : dysplasia of surface epithelium
Hyperorthokeratosis
Hyperparakerotosis
Acanthosis
Dysplasia
Carcinoma in situ
DIFFERENTIAL DIAGNOSIS
Lichen planus
Chronic hyperplastic candiasis
Chemical burns
White spongy nevus
Discoid lupus erythromatosis
Psoariasis
Syphilitic mucous patch
DIAGNOSIS
History
Clinical appearance
Vital staining (Toluidine blue)
Biopsy
MANAGEMENT
Removal of etiological factors:
Stoppage of habits
Removal of local chronic irritation
Removal of ill fitting dentures
Reassurance of patient
Regular follow up
TREATMENT
Chemo prevention
Surgical removal
Laser obliteration
Electro desiccation
Cryosurgery
Combinations of antioxidants, vitamins and nutrients
Beta carotene, Vitamin A, Vitamin C, Vitamin E
Potential biological action of antioxidant :
Quenching of cellular free radicals which can affect chromosome integrity,mutagenesis and carcinogensis
Promoting a balanced function between epithelial growth and suppressor proteins
TRIAL OF VITAMIN A Stich et al 1988 CANCER LETTERS;40:93-101
Vitamin A: 200000 I.U.per week for six months
Results: 57% suppression rate
TRIAL OF BETA CAROTENEKillenD et al 1989, IN PREPARATION, 1989.
Beta carotene: 30mg per day for 3-6 months
Results:71% response rate
No significant toxicity
5-FLUROURACIL AND BLEOMYCIN
5-FLUROURACIL
Topical application-5%{cream}
Act by inhibiting RNA synthesis
BLEOMYCIN
Intralesional injection-5mg
Direct bonding to DNA
Reduced synthesis of DNA ,RNA and proteins