To get kids to brush a full two minutes cycle of their teeth is a challenging task. To select the best kid toothbrush for them is not easy either. There are so many revolutionary toothbrushes for kids in the market that encourage them to brush nowadays. Finding a toothbrush that the kids would use is the key to good dental health.
Important Points to Choose A Good Kid Toothbrush
A kid toothbrush must have:
Small head to reach posterior teeth
Ergonomic and wide handle to grip firmly and safely
Soft bristles to prevent gum damage due to excessive pressure
Soft brush head to absorb pressure on gums
Buy toothbrushes according to stages of development of your child
Kid manual and electrical toothbrushes are equally good depending on which your kid uses most efficiently
Innovative Toothbrushes
In order to attract kids' attention and make brushing fun, some companies have come up with a lot of ideas.
Singing Toothbrush
Hasbro has manufactured a toothbrush called Tooth Tunes that would play a two minutes music clip when the user applies pressure while brushing. Each toothbrush comes with a single music clip and there is a variety of music to choose from. Its volume increases with pressure. It is battery powered and selling at USD $ 4.99 and above.
 Flashing toothbrush
This is a flashing timer toothbrush. It flashes in a one minute cycle. Kids are supposed to brush until the light stops flashing. It is called Dr. Fresh Toothbrush Fire-Fly Flashing. It is battery powered as well and selling at roughly USD $19 in pack of 12. Another brand of toothbrush with timer is Butler Gum Crayola Timer Light Toothbrush. It flashes with 1 minute intervals and selling at USD$3.
Talking toothbrush
This product features a doggie design holder coupled with amusing voice recording to teach kids correct way of brushing. The voice recording would last for 2 minutes and it would guide the kid to brush in sequence plus complimenting them that they did a good job. It is called Brush Buddies Talking Toothbrush. It is selling at USD$ 5.
Cartoon Characters Incorporated Handles
Kids love cartoon and marvel heroes. A lot of kids' powered and manual toothbrushes are made of large cartoon characters handles to make brushing fun. For instance, Crest Kid Spin Brush, Dr Fresh Spiderman Toothbrush and Oral B Kids Stages Battery Toothbrushes.
Gum Massaging Toothbrush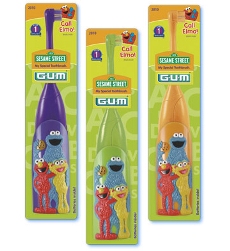 Butler G-U-M Toothbrush Power Sesame Street claims that their soft bristles could massage children's gum while they are oscillating. Its big handle allows kid to hold onto it while parents are brushing their teeth.
Toothbrush with dosing dot
Some toothbrushes feature colored dosing dot to guide parent on how much toothpaste to apply for each stages of development of a kid. Usually a kid should be started with a pea -size toothpaste. For example Colgate Children Toothbrush
Conclusion
No matter what sort of toothbrushes you buy for your kids, the most important thing is to brush often and brush right!