FAILURES IN FIXED PARTIAL DENTURE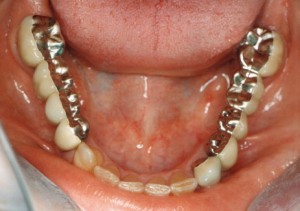 A bridge is a custom-made device anchored to neighboring natural teeth, which replaces one or more missing teeth. When a lost tooth is replaced with bridgework, the teeth on either side of the missing one are prepared as crowns to hold the bridge in place. Bridges, sometimes referred to as a fixed partial denture, look natural and literally bridge the gap where one or more teeth may have been. Fixed bridges appear and function similar to natural teeth.

INTRODUCTION:
DENTAL RESTORATIONS ,NO MATTER HOW CAREFULLY PLACED, MAY REQUIRE MODIFICATION OR
REPLACEMENT. THE ORIGINAL EVALUATION AND TREATMENT SHOULD HAVE ENSURED GOOD ABUTMENT SELECTION , CROWN PREPARATION WITH ADEQUATE MARGIN PLACEMENT, PONTIC DESIGN AND CORRECT OCCLUSION.  NO GUARANTEE CAN BE GIVEN CONCERNING THE LONGEVITY OF ANY PROSTHESIS .  PATIENTS SOMETIMES CAN PRESENT WITH ONE OF A NUMBER OF MAJOR PROBLEMS AFTER CROWNS OR FIXED PARTIAL DENTURES HAVE BEEN CEMENTED.
CAUSES OF FAILURE
Caries
Pulp degeneration
Periodontal breakdown
Occlusal problems
Tooth perforation
Temperomandibular disorders
Mechanical failures:
Loss of retention
Connector failure
Occlusal failure
Cementation failure
Tooth fracture/ root fracture
Porcelain fracture
Maintenance failures
Esthetic failures
Facing failures
Caries:
One of the most common biologic failures.
Usually perceived by the patient as
 Pain or sensitivity to hot ,cold or sweet foods & liquids.
Dysgeusia
Halitosis
Loose restorations
Fractured teeth
Discolored teeth
Small lesions :
Gold foil – filling material of choice for restoring marginal caries.
Amalgam – best alterative to gold foil filling because ofits ability to produce long term marginal seal.
Composite – indicated for restoration of caries in esthetic zone.
Glass ionomer cement.
Proximal lesions :
Removal of prosthesis is required to obtain access to caries.
If the lesion is small, the tooth preparation can be extended to eliminate the caries and a new prosthesis can be fabricated.
When the lesion is large, an amalgam restoration is often required.
An extensive lesion may require endodontic treatment when pulp has been encroached.
A grossly destroyed teeth by caries that cannot be restored must be extracted.
Schwartz et al (1970) & Randow et al (1986) both reported caries to be the most frequent cause of failure of existing restorations (36% & 18.3%).
Glantz et al .in 1993 reported that of 77 bridges reviewed at 15yrs , 32.5% required removal. Further reported in 1993 that the incidence of caries was not related to the age of the patient , rather , to the time that the bridge had functioned .
Pulp degeneration:
This is usually perceived by the patient as:
pain – either spontaneous or related to hot or cold or sweet stimuli.
pain which is accentuated by lying down or exercise
Causes :
Extensive preparation
Excess heat generation during preparation
Indication for endodontic treatment
Post insertion pulpal sensitivity on abutment teeth that doesn't subside with timeà intense painà periapical pathology detected radiographically
Management:
Access preparation – a hole is drilled in the prosthesis through which the biomechanical preparation (BMP) is completed.
The access cavity is restored with
Gold foil
Amalgam
Cast metal inlay
If the retainer come loose during access opening or if the porcelain fractures, then remaking of the prosthesis may be necessary.
A post and core restoration should be considered if little sound tooth structure is remaining.
Survival of endodontically treated , post-restored teeth depends on a multitude of factors , all of which are practically impossible to include in a randomized , controlled clinical study.
Following conclusions were derived:
Fracture of the tooth was the most common type of failure among the failed post-retained restorations followed by loosening of the post & fracture .
Tapered posts more often displayed fracture of the tooth and less often fracture of the post.
Fracture of the post was more common among male patients than among female patients.
Periodontal breakdown:
This is usually perceived by the patient as:
Looseness of teeth or bridgework
Drifting teeth
Bleeding tissues
Changes in color of the gums
Bad breath
Bad taste
Pain
Abscess formation
Poor aesthetics
Periodontal disease can produce extensive bone loss , which in course of time results in the loss of abutment teeth and attached prosthesis.
Aspects of the prosthesis that interfere with effective plaqueremoval include:
Poor marginal adaptation
Overcontouring of the axial surfaces of the retainers
Excessively large connectors that restrict cervical embrasure space
A pontic that contacts too large an area on the edentulous ridge.
A prosthesis with rough surfaces which promote plaque accumulation.
Management :
Plaque accumulation à Prophylaxis, removal of local factor
Tissue hyperplasia à Gingivoplasty
Devitalized & severe bone lossà Endodontic procedure/ bicuspidization hemisection of teeth.
Less severe breakdown can be treated without fear of loss of teeth, with small surgery which may produce an unacceptablerelationship between prothesis & the soft tissue.
Occlusal problems:
Patients may be uncomfortable with their new occlusions.
Some patients tolerate gross occlusal discrepancies without complaining , whereas others are intolerant to discrepancies
in the range of 10-15 microns.
Occlusal discomfort is perceived by the patient as:
General discomfort with the "bite"
Sore teeth
Loose teeth or bridges
Sensitive teeth
"Tired" or "sore" muscles
Interfering centric and eccentric occlusal contacts can cause:
Excessive tooth mobility
Irreversible pulpal damage
Management :
When detected early occlusal adjustment should be done to eliminate these interferences without permanent damage.
Occasionally, a combination of excessive mobility and reduced bone support require extraction of abutment teeth.
Irreversible pulpal damage requires endodontic treatment.
Change in vertical dimension:
VD may be decreased as a result of severe attrition or increased as a result of poor restorative planning.
Porcelain occlusal surfaces in short clinical crowns-vd increases
Following symptoms may be perceived by the patient:
Altered facial appearance
Dribbling of saliva à loss of VD can precipitate "angular chelitis"
Extreme changes in VD can convert an asymptomatic
internal derrangement into a symptomatic one.à alteration in muscle activity can cause "myalgia".
Extreme increase in VD reduces ability of tongue to create a seal during swallowing
Compensating movement of the larynx during swallowing
Muscle strain & symptoms such as "sore throat" or "tired tongue"
Teeth can become sensitive either due to loss of occlusal tissue or due to trauma to the teeth from the increased VD.
Clenching of teeth because of premature contact.
Loss of posterior vertical dimension à lower anterior teeth occluding more heavily with the palatal surface of the upper anterior teeth causing drifting or failure of anterior restorations.
Decrease in the VD can result in occluding of the lower incisors with the palatal soft tissues giving rise to soreness & possible periodontal complications.
Decrease or increase in VD
Difficulty in mastication
Gross increase in the VD
Speech problems particularly with sibilants.
Tooth perforation:
Improperly located pinholes or pins used in conjunction with pin-retained restorations may perforate the tooth laterally.
Management : depends on the location of the perforation.
Occlusal to periodontal ligament
Extend the preparation to cover the defect.
Extends into periodontal ligament
Perform periodontal surgery
Smoothening of the projecting pin
Place a restoration into perforated area
Furcation region
Surgically inaccessible
Severe periodontal problems may ultimately
lead to extraction of the tooth.
Pulp chamber
Endodontic treatment
Subpontic inflamation:
Perceived by the patient as :
Pain
Swelling
Bad breath
Bad taste
Bleeding gums
Poor esthetics